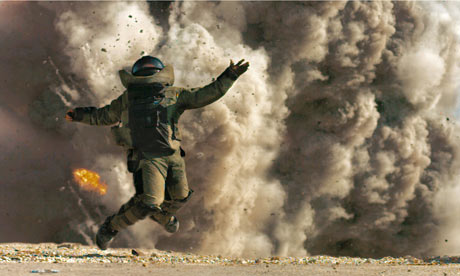 And the winner is..."The Hurt Locker"...

James Cameron must feel like that dude in the picture...That dope spent ten years working on his over the top special effects, CGI out the ass, sci-fi movie...And he lost "Best Picture" and "Best Director" to his ex-wife...OUCH!


But I wasn't surprised...SCI-Fi doesn't win at the Oscars...There were no surprises this year...There rarely are...Bunch of stuffy, uptight, ass kissing, douche-baggery..."The Hurt Locker" was a really good movie...Yes there is a lot of bullshit that wouldn't really happen in reality...But it's a movie...And a good one at that...
Moving on, this past week hasn't been the best for me...You can read up on my pain here...
Saturday the wife and I hit the movies...I was feeling better and wanted a couple hours away from the kids...We went and saw "Cop Out." You can read about that here...
After the movie we stopped by Borders Books & Music...First, why don't we take Music out of the name...The music section has gotten to be the size of my half bathroom...And the music selection is for shit! Most of it is old...You know for the people who just upgraded from vinyl to CD's...No I don't need any Jim Croce...And I had the Led Zeppelin box set when I was 15...But wait...Borders is trying hard to stay hip...They've got f**king Radiohead CD's coming out their ass! We get it...Radiohead =you're too cool for the room...Way to play your computer...


Thom Yorke is a fruity dancing douche!

So we roam around the store for awhile...I see a huge sign that says '"CALENDARS"...We need a calendar...This Christmas was the first in my life that some one didn't give me a Lighthouse calendar...Yes, I love lighthouses...It's very odd, because I'm not a fan of water...So I go over and find...Nothing that resembles a calendar...Then after searching for an employee for more then 5 minutes, she tells me, "Whatever is there, is what we have"...I replied with, "You have nothing!" and walked away...

I ended up leaving with a book called "Odd Man Out" by Matt McCarthy...It's the story of him and his not so famous life in baseball...So far I'm enjoying it...I also got a cookbook that was marked down to $5...Has some really cool stuff in it I may be stealing for specials at The Fish House...The wife Grabbed some Dean Koontz book and something else...Oh, and a Alice in Wonderland book for the girl, (The most expensive thing we purchased) and a Sponge Bob book for the boy...

Speaking of the Little Beeze...We got a nice surprise when we got home...The sitter tried to clean most of it up, but his slick...You see, some artists work with oils...Some with pastels...Some with water colors...Some simply draw with pen or pencil...The Little Beeze apparently was working on a masterpiece in the bathroom, with toothpaste...Well at least it smells fresh in there!

I'll be honest, I haven't spent much time paying attention to sports this past week...Spring training games got underway...Not interested...The NHL trading deadline came and went...Over 50 players were moved around the league...But no major shake-up...Like all trading deadline days, it was hyped for no reason...

Sunday The Boston Bruins, and Marc Savard got dealt a blow they didn't want, as Matt Cooke of the Penguins put his forearm/elbow right upside Savard's head...Savard is out indefinitely...And I'm sure the league will be looking at the video since it was a head shot...


NFL free agency has gotten underway but I'll be honest...I'm not that well informed about it all...I know The Bears made the first big splash signing Julias Peppers to some insane money...And they also signed Chester Taylor...The Ravens made a good move grabbing Anquan Boldin...And the Jets secondary just got even better with the signing of Antonio Cromartie...But that's all I got on that...

One last thing before I go...I don't consider myself geek...But I do have a fondness for "STAR WARS"...I also have a fondness for sexy women...So when I saw this I thought...WOW! What a great idea...



Have a great week...

Later, The Beeze.