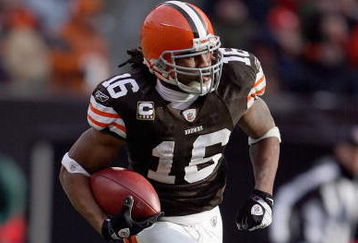 This may seem nuts, but there has been non-stop Cleveland Browns talk in this town...First all the will Mangini be fired or not talk...Then Holmgren finally showing up, and his first press conference...Then more will Mangini be fired talk...Then Josh Cribbs...
For months there has been all kinds of "Pay Josh Cribbs" talk...There's even a Facebook page...Now some people may be surprised by my thoughts today...But here me out...I joined the "Pay Josh Cribbs" page...I like Josh Cribbs...he's a hard working, hard nosed football player...he also does a lot of work in the community...Often very quietly...Do I think he's underpaid...Yes, by NFL standards he is...But in 2006 he signed a six year, $6.77 million contract extension through 2012...
Cribbs' has wanted a new contract since last off season...I respect that he played through the talks and didn't hold out, and play all those a$$hole games...He went out and busted his a$$ for his team...He did whatever was asked of him...Once again, he was without a doubt, the Cleveland Browns MVP this year...But I've never been a fan of renegotiating contracts...
Now his agent is trying to push the Browns into making Cribbs' contract their #1 priority...How about you let Holmgren get his staff hired first...
Then last night Cribbs comes out and says he's "insulted" by the Browns contract offer of "only" $1.4 million a year...Really? Yeah, it's probably below market value but...Is really a wide receiver? NO...Is he a Quarterback? NO...Is he a running back? NO...He's the best special teams player in the league...Who plays a "Slash" role as well, because he's on one of the worst teams in football...
If I was running the Browns this is how things would go after he said he was insulted..."You're insulted? F**k you!" Then I tear up the offer..."I guess you're gonna have to finish out your existing contract...And no, I won't trade you! If you play that I'm holding out crap...You won't get paid...And I'll sue you for breach of contract."
Like I said...I like Cribbs...And he's a stud...But him and his agent, who has already said, they will ask for a trade if this isn't resolved soon, are both being a couple of dolts...Feel free to suckle me!