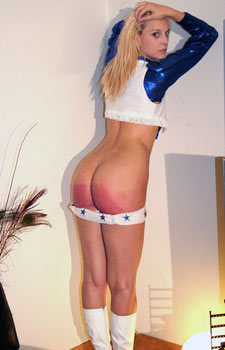 I thought after Katie Nolan's second
SPANKING
of the Dallas Cowboys, that maybe the organization would take notice of how they and their players act...But no...They need a much greater spanking...
Sunday, against the the Seattle Seahawks, this happened...
At the 1:30 mark, Dez Bryant is seen walking across the 40 yard line, he has his helmet off, is pointing, and of course he is talking...Do you know what he said?
"That's what you fucking get!"
— NFL Memes (@NFL_Memes) November 1, 2015
I think over the last year, I have made it completely clear, just how much I hate the NFL...And the last month we have seem nothing but idiot bullshit come from the Dallas Cowboys...Once known as "America's Team"....What they are is a microcosm of everything that is wrong in our society, so I guess they are "America's Team" in a way...America's shitty team....Our bad neighborhoods, our, punks, and drug dealers, and wife beaters, mixed with the billionaire CEO who cheats on his wife with gold-digging co-eds and strippers, and he is surrounded by his little red headed yes man, who does whatever big daddy says, even though he knows it's taking the business in the wrong direction...
I don't know how many times I have heard Dez Bryant "gets a bad rap" or that he is just a "passionate player"...Really? Honestly, you can say that? The fucking asshole hit his own mother! So if you defend him, fuck you! He's a flat out, and asshole...I knew that before Sunday, when he was talking shit, trying to start fights, and saying, "that's what you fucking get!" while Ricardo Lockette laid motionless on the field...
When Bryant was asked after the game if he said, he said, "I got on one knee and prayed for that man. Don't put clips together and do that." Then asked, by a reporter, "Did the Seahawks accuse you of saying something?" Bryant said, "Nah man, ya'll did man, bullshit media did."
I didn't see him down on one knee praying...I saw him yell, talking shit, and finger pointing, in his typical fashion!
I have had many wishes in my life...And very few have come true, but a few important ones worked out...I have a new wish....fuck that...I'm better then Greg Hardy, Jerry Jones, and Dez Bryant...I'm not going to wish AIDS on that entire organization...I just wish that this time next week, I'm writing about Dez Bryant and Greg Hardy's career ending injuries...Fuck them...Fuck the Cowboys!
-Moving on to college football...It didn't even take the ACC 24 hours to throw their refs under the bus...Hell, the refs took longer doing the review then it did for the ACC to suspend the officials...Miami returned a kickoff to beat 30-27, but the return, which it should have been easy to see during the 9 minute review period, should not have counted...The ACC said one of the Miami players knee was down before one of the 8 laterals on the play...
The ACC suspended the on-field officiating crew, and the two replay booth officials...But they aren't overruling the call or overturning the game's outcome...
ACC Commissioner, John Swofford said in his press release,
"
The quality of our officiating program is of the highest importance to the league and its schools, and the last play of the game was not handled appropriately. Officiating is an extraordinarily difficult job but our players, coaches, programs and fans deserve the best that can be offered. We will continue to strive to meet that standard."
So the "players, coaches, programs and fans deserve the best that can be offered." So how the hell can the ACCC say the officials shit the bed, they're suspended, bu we aren't going to give the game it's proper outcome?
Yeah, yeah, yeah, I fucking know,
'the human element is part of the game'
....It's such a fucking part of the game, that the NCAA and NFL, and MLB, and NHL have all added instant replay and replay
officials
to correct all the nearly never ending, fuck-ups caused by "the human element"...So if fucking up and in this case, fucking up royally is part of the game, ( "the human element" ) then shouldn't righting a wrong be part of the game too...Duke got fucked in the ass...the ACC admitted it...Now they should pull the big cock out of Duke's ass and stick up Miami's ass...All John Swofford needed to add was, 'Duke wins, Miami loses, our guys fucked up royally...We're sorry it took them 9 minutes to get it wrong, when people at home figured it out in a minute and half.' Or something like that!
-On the home front, we got swamped on Halloween...The new neighborhood gets down for trick or treat, and we ran out of candy at 7:20...Trick or treat hours were 6-8...And we dumped most of what Molly got, (the stuff she doesn't like) into our pass-out bowl...I even boosted some from the boy, and told him to go hit another street. He was fine with those marching orders...
That's it for now...
Have a week!