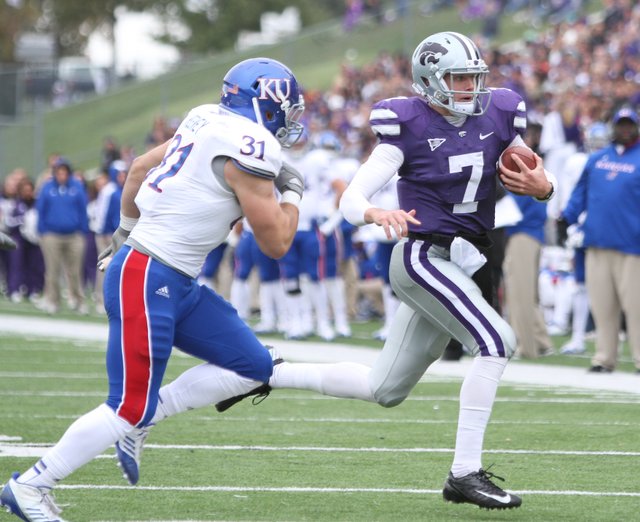 We'll start this week with one of the day's early games...Big-12 and state rivals, Kansas at #7 Kansas State...If you paid attention to my pre-season predictions, and now my weekly wrap up, you know I'm all in with Collin Klein and Kansas State taking the Big-12 title this year...I have to say, early in this game I was a bit nervous...Charlie Weiss was pulling everything he could out of the playbook, and by halftime the Jayhawks were only down 21-14...But that was it...The Wildcats defense buckled down, and the offense rolled...Klein passed for 129 yards and 2 TD's, while rushing for 116 and two more TD's...K-State drilled the Jayhawks 56-16...
The other early game I was bouncing to was from the MAC...Buffalo was visiting the Bobcats at Ohio U...And things didn't look good early for undefeated Ohio, as Buffalo jumped out to an early 14-0 lead...Ohio battled back and had the lead at halftime...Buffalo kept swinging and had the game tied after 3 quarters...The Bobcats pulled ahead and held on for 38-31 win, even though Buffalo had out gained them in yardage, and had a 10 minute TOP advantage on them...I'm sure this was a good reminder that the Bobcats can't coast though their MAC schedule...
I hadn't planned on writing about the #3 Florida State at NC State game, but now I have to...As I started writing this, I saw NC State was hanging in there...And then they did it...On fourth down, with time running out, Mike Glennon connected with Bryan Underwood for a game tying, 2 yards TD pass...And with the extra point. NC State took a 17-16 lead, and held on for the last few seconds to win...Love seeing FSU...Love seeing an upset live like that...And I was shocked to not see the NC State fans storm the field...Very odd to see a big conference upset like this, and not see the student body go bat-shit!
Now lets go to the SEC...I have never found myself rooting for #10 Florida...But today I was, as they took on #4 LSU...I have grown to hate LSU, and their obnoxious fans who think LSU is God's gift to football...Well, your team may have put some points up on Towson, but they didn't do shit against a real defense like Florida...And then Florida's offense just went ball-control all over your ass, hanging onto the ball for 37 minutes and change...The Gators won 14-6 and are now 5-0...
The other big game in the SEC was suppose to be #5 Georgia at #6 South Carolina...Instead it was an ass beating as South Carolina rushed for 230 yards on their way to a 35-7 victory...and that 230 yards doesn't count the 70 yard punt return for a TD by Ace Sanders... South Carolina QB Connor Shaw looked really good as well...This kid is coming along, and the fact that Spurrier doesn't seem to be screwing with his head too much may be a big reason why...But it all started the Gamecocks defense getting into Georgia QB, Aaron Murray's face, and head early...Just a dominating effort...And with Georgia taking the loss, along with LSU's loss, the SEC is looking more interesting...Game to watch next week, South Carolina at Florida...Should be a hell of a game!
Now, before I get into any other games, I have to get to my Fighting Irish...
Manti Te'o and the dominating #9 Fighting Irish defense took to Soldier field to renew an old rivalry with the Miami Hurricanes...I have to say I was a bit worried about Miami's speed, but once they dropped a few passes, on balls that had the secondary beat, the Irish defense woke up and held Miami to just a field goal...It also helped the defense that Notre Dame held onto the ball for over 39 minutes, and rushed for 376 yards...This was an old fashioned ass beating...The Irish ran through Miami the way Taco Bell runs through me...Damn, I really want a Mexican Pizza! George Atkinson III had 123 yards and a TD, while Cierre Wood put up 118 yards and 2 TD's...Theo Riddick had 21 yards and a TD on 5 carries...Everrett Golson had 51yards on the ground, and Cam McDaniel had 55 yards and 1 TD on 11 carries...
Next week #18 Stanford comes to South Bend to take on the Irish...But this week, Stanford had a bit of a scare, as they didn't feel like playing defense against Arizona...Both teams racked up 617 yards of total offense, each...4 Quarters wasn't enough...Tied at 48, they felt there needed to be more scoring...Stanford must have been feeling the pressure, because they wanted to end this quickly...A rare defense high-light, the Stanford D picked off a Matt Scott pass...Then on their second offensive play, Stepfan Taylor broke off a 21 yard TD run, to end the game 54-48...I hope the Cardinal defense plays this shitty next week!
In the Big-Ten, #24 Northwestern fans were getting excited about their team, until Saturday when they went to Penn State and lost to the Nittany Assholes 39-28...And yes, ESPN televised this weeks game...That's all 6 PSU games on ESPN/ABC...ESPN, the world wide leader in bullshit...Don't worry, if your school and legendary head coach cover up decades of child rape, ESPN will have your back, and do what the can to keep your sanctioned program relevant...
This weeks prime-time Big-Ten game featured #21 Nebraska heading into Columbus to take on #12 Ohio State...Early on this was a tight battle, with plenty of offense...But Ohio State took control and pulled away, winning 63-38...QB Braxton Miller rushed for 186 yards...I have to ask Nebraska, how the hell do you let that happen? Everyone knows this kid is the key weapon for Ohio State...Stop him...Don't let him run all over you...Force him to beat you with his arm...Did you guys not watch any film on how this kid runs? But Buckeyes fans are happy...They saw some high-powered offense that they have been waiting to see from Urban Meyer...
Speaking of high-powered offense...#8 West Virginia went down to Texas to take on the #11 Longhorns...Friggin' West Virginia and their offense...460 total yards...Geno Smith passing for 268 and 4 TD's...Texas tried their best to hang with the Mountaineers, as they put up 404 yards of offense...I was expecting Texas' defense to be the one to slow WV down and put them in their place, but I guess I was wrong, as WV won 48-45...I'm really noticing a lack of defense lately, and it's disappointing...
Also in the Big-12, with QB Casey Pachall suspended, #15 TCU lost to Iowa State 37-23...Looking at the numbers you would think TCU should have won this game, but there is that all important category of TURNOVERS...TCU turned it over 5 times...You can't win doing that...
And since I've found myself paying attention to the University of New Hampshire the last couple weeks, why not see what they did this week in the CAA...Well, QB Andy Vailas passed for 252 yards and 4 TD's, while running back Nico Steriti rushed for 126 yards and 2 TD's...Running back Jimmy Owens also added 120 yards on the ground, as UNH beat-up Georgia State 44-21...
That's it for the wrap up...See ya Monday!
The Beeze.