And so has the good sportsmanship...
After running his mouth leading up to the game...LaGarrette Blount didn't like what Boise State's Byron Hout had to say, after the Broncos beat Oregon last night 19-8...So Blount blasted him in the chin...Then he got into it with his teammates...Then some Boise State fans taunted him, and he tried to go after them, and had to be restrained by coaches, players and security...


If losing wasn't bad enough for the Ducks...Now they're going to spend all week fielding questions about their running back who can't control his temper...It may be a long season for the Ducks...
Other scores from last night...

Utah

beat

Utah State

35-17
South Carolina

beat

NC State

7-3
and

North Texas

defeated

Ball State

20-10
I love college football...I like it more then the NFL even if the BCS system sucks, which it does...Maybe because I'm a Cleveland Browns fan, and I just haven't had much to cheer about...
And on the Browns for just a second...What the hell is Eric Mangina doing? He refuses to name a starting QB...And in last night's preseason game, the two guys competing for the job, Brady Quinn and Derek Anderson, didn't play...Ben Ratliff played...What Mangina...Your third string QB from the Jets last year is gonna be the answer, over a first round pick, or a former pro- bowler...Get your head out of your a$$ and name the starter already...
My opinion it should be Quinn...Who knows what Mangina thinks!
Back to College Football now...Saturday my Fighting Irish open their season with Nevada...I think it will be a good game...But the best thing that could happen for Charlie Weis, is the Irish pounding the hell out of Nevada...A strong start would help the mood of the Irish faithful...
The defense will be lead by their deep and talented secondary, lead by hard hitting safety Kyle McCarthy...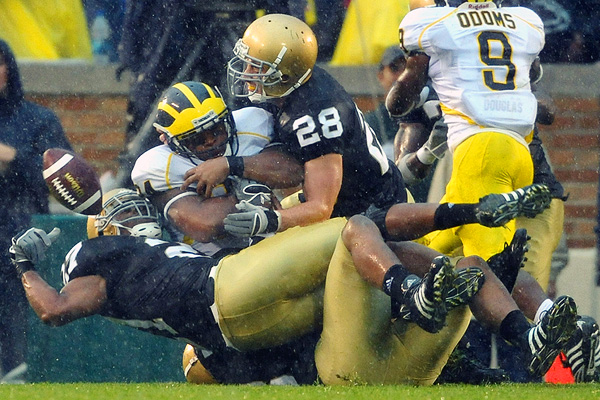 The Offense and the team will be looking for Quarterback Jimmy Clausen to step up this year, be a real leader and live up to the hype that first came with him to South Bend...
If the Irish are going to actually wake up the echos...It has to start Saturday...I can't wait...