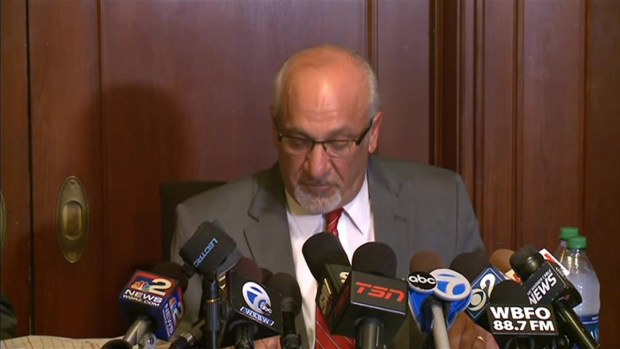 A day after holding a press conference where he brought out the accuser's rape kit, evidence bag, Attorney
Thomas J. Eoannou held a press conference tonight to say he will no longer represent Kane's accuser...Eoannou felt there were "misrepresentations" of how the evidence bag ended up at the mother's door...And he no longer has confidence in the story of how the bag was found...
As I quoted in yesterday's POST, Police officials said,
"All evidence related to this case that was given to Erie County Central Police Services by the Town of Hamburg Police Department is accounted for and remains in its original packaging in the possession of Erie County Central Police Services,"
John Glascott, Erie County Central Police Services commissioner
said in a statement. "This includes the evidence in the rape kit and the packaging itself. This evidence has been analyzed and reports of that analysis sent to the appropriate agencies."
Wednesday
Kane's attorney, Paul Cambria, said both sides in the case have been told that none of Kane's DNA was found "from the waist down" on the woman.
Cambria said he would welcome an investigation of the bag incident.
"Only someone who is unhappy with the DNA results would have a motivation to claim that it's compromised," Cambria told The Associated Press. "We are obviously quite pleased with the DNA results."
Here are key things said by Eoannou tonight...
"

I no longer have confidence in the mannor and means about which this bag was discovered."
"
there were fabrications made.
I don't know what's true and what's not true."
"
I am not going forward as the lawyer in this case. "
Dan Herbeck tweeted that "Patrick Kane's attorney Paul Cambria tells Buffalo News latest developments in the case show the woman's entire claim vs Kane is fabrication."
In his press conference I am watching now, Cambria said,
"The science was clear, the testing that was done exonerates my client."
Like I said yesterday...It came out early this week that the accuser's rape kit had DNA, and semen from two other people not named Kane in her genitals...Then Wednesday the mother mysteriously finds a rape kit evidence bag, and the accuser's side is screaming 'evidence tampering'...The accuser's social media did not show her in a good light...parts of her story were discredited by Kane's driver, an off duty police officer, as well the bartender...
While I approached this story very skeptical of the accuser, most of the media was anti-Kane...Most of what was written bashed him, and early leaks were against his side of the story...I have to give credit to Sports Mockery for being ahead of this story digging into it from the other side...
At this point, I feel very confident in the post I did awhile back saying that Kane was setup...