Well the weekend is over...There was plenty of sports...NASCAR let the NRA sponsor a race which with all the talk about gun laws got people all kinds of fired up...Me, I don't care...NASCAR is a business and the NRA has money to spend...Do I agree with everything they say...No...But I don't watch NASCAR either, so I don't give a damn...
Adam Scott won the Masters...I heard it went to a playoff but I didn't watch...Why? Because golf bores me, and the wife didn't want me taking a nap...Plus there was the whole shit about Tiger Woods supposedly not knowing the rules, and taking an illegal drop...The officials okay'ed his score card, then a viewer at home called and pointed out the violation...If people can call you up from home, and point out the rules that your officials missed, or screwed up on...Your sport/game is fucking stupid!
Besides that...These cocksuckers at the Masters gave a one stroke penalty to a 14 year old, who was out their holding his own, for playing too slow....FUCK YOU! But Tiger does something that would have gotten anyone else DQ'ed and he's given a two stroke penalty and allowed to stay in the hunt...Fucking Golf and the Masters can eat my ass!
-Let's go to a real sport...
Saturday night was the NCAA Hockey Championship in Pittsburgh...It was a battle of Connecticut as the Nation's #1 team Quinnipiac took on the Cinderella Yale Bulldogs...No matter who won, it would be their schools first NCAA Hockey title...
Well, Yale came to finish the Cinderella Story, lead by goalie Jeff Malcolm on his 24th birthday...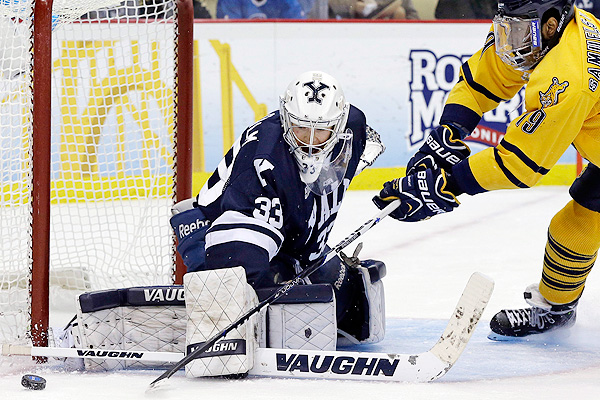 It was a tight, close game through two periods...Yale finally scoring first with just under 4 seconds left in the second period...
They carried the momentum into the third going up 3-0...Quinnipiac pulled their goalie, Hoby Baker finalist Eric Hartzell with 7 minutes left, trying to use the extra attacker to help them back in the game...But Malcolm held strong, making 36 saves...Yale fired in an empty net goal to put it out of reach, and winning 4-0...
Yale had proven once again not to count out underdogs...And that they can compete with the big guns in D-1 Hockey...Great win for Yale...And great for College Hockey...But the night belonged to the birthday boy Jeff Malcolm...The heart and soul of the team...The goalie in the tourney that they didn't talk about....Looks like he's finally caught the eye of a few people...
-This weekend was my and Mrs. Beeze's 12 year anniversary...We went out Friday for a cheap date...We started out, where it all began...A little bar, with great tacos...It was where we went the first time we went out after work...It was that night that I knew she was the one...SO we had a beer and a couple tacos and the went to the movies...Going to the movies is one of her favorite things to do...We saw Olympus Has Fallen...
Spoiler Alert
.......It had good action...The one dude was a good ass kicker and had some good lines...But it was bullshit...And the CGI stuff looked like crap....
As we drove home, we started talking about how the time has flown by...12 years went by quick...I never imagined my life like this...And now I wouldn't consider changing it...3 kids, a house, a mini-van, coaching baseball, selling a guitar to get my daughter a clarinet...I'm still madly in love with my wife...I'm a lucky guy...Wouldn't change a thing...(but if I found a million dollars in my wallet tomorrow that wouldn't be awful)
Have a week...
The Beeze.