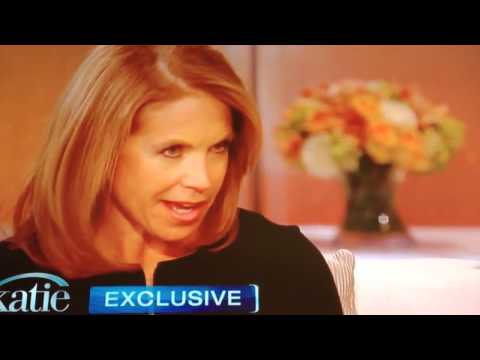 'You're fucking kidding me right?'
Seriously, Katie Couric what thinking those very words repeatedly as she interviewed the dope known as Manti Te'o...
I know people are sick of this topic...Shit, I'm tired of it too...But I've spent my life as a loyal Notre Dame fan...I was a huge Te'o supporter...Then this crazy story broke...If I'm going to write about the good things, and I'm going to pound on other people I feel are assholes, I have to do the same in this case, or I'm just being a tool...
The last week and change I've been tough on Te'o, and I felt he was in on this whole hoax thing...I couldn't believe that some one could get duped as bad as he says he did...Well during his interview that aired Thursday, he admitted to lying about meeting his fake girlfriend...He lied be cause he was embarrassed...He also admitted to continuing to talk about the story of his dead, fake girlfriend after he realized he was played for a fool...He felt the story of him battling through the heartache and pain of losing the love of his life "was an inspiration to many people", and he felt he was doing "good" by continuing with that...
Sure, it had nothing to do with all the media attention...The media attention that helped push a linebacker to finishing second for the Heisman...Let's be honest, if this whole, dead girlfriend just 6 hours after his grandmother died story didn't happen, he wouldn't have been in New York for the Heisman ceremonies...He still would have had a great season, but the media wouldn't have latched on to him and his story, and how the whole Notre Dame community rallied around him...
There were many things that bothered me about watching this interview...1. I watched it...2. I watched it a second time, just to try and wrap my head around it...3.There are just too many things that don't make sense, to how he couldn't have figured out he was being pranked...4. Notre Dame and loyal fans have always prided ourselves on the high academic standards, including those for athletes....So how is this kid so fucking stupid!?! If all of this was a hoax pulled on him, he's an idiot...Katie at multiple times just looked at Te'o in shock...And when they got to the part where his fake girlfriend woke up from her comma, on the phone with him, and then shortly after found out she had leukemia, Couric said, "You have to be the most naive person alive, or this is the most horrible story ever written."
She asked if this was all a plot to cover up him being gay...Which of course he responded intensely, proclaiming that there was no way he was gay...I thought he was about to say I get a different woman every night, I'll take you now.' But if he's such a man, why is he in love with a girl he's never seen, touched, or smelled, let alone finger-banged, dry-humped, or even penetrated...I'm not saying he's gay, but there is still a missing piece to this puzzle...Opie, from Opie and Anthony has offered $25000 to the first woman/girl who can prove she had sex with manti Te'o...That's how not convincing he was!
They played voice mails, that were supposedly a guy pretending to be a his girlfriend...Everyone was like, "that sounds like a girl." No it sounded like tranny doing his best girl voice...
Even if he wasn't directly involved in this hoax...In his own way, he played a role...he played along...He embellished the story of his love affair...He used it to his advantage to get more media attention...Not that a good Notre Dame football player really needs to push that hard for media attention...His father said Manti "isn't a liar, he's just a kid." Huh, that's odd, because in the interview, he admitted to lying to his father...And at 21 you're not a kid...Sorry, you're fucking adult...You can drink a beer, and you've been eligible to go to war for a few years at that point...Stop coddling your kid...And Manti, grow the fuck up, and screw a real woman...
I hate to say it...But I don't like anything about Te'o anymore...He seems shady, or really fucking dumb...I can do without both...I don't believe him....I'm not drinking what he's spilling...
But believe me people..There is still something more, and twisted about this whole idiotic story to come out...
The Beeze.