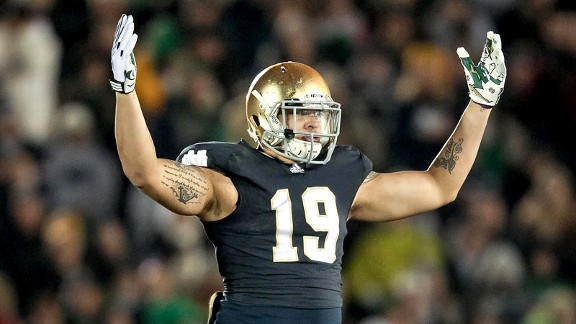 Yeah, what the fuck Aaron Lynch!?!
News broke today that star defensive end, Aaron Lynch was leaving the Notre Dame Football program, and will be leaving school after this semester...
Lynch from Cape Coral, Florida had made an immediate impact last season as a true freshman...He had been a top 30 recruit, and was living up to the hype...He gave the front-seven another strong threat, to go along with Manti Te'o...Lynch had enrolled early, and made everyone notice his raw ability...The coaching staff had no choice but to work him into the defensive line rotation...And just a couple weeks into the season, he was starting...
Word had spread that Lynch was tough to coach, and him constantly being homesick was not helping matters...So much so, that coach Brian Kelly sent Lynch home, and told him to really think about whether he really wanted to be at Notre Dame...When Lynch returned he sat down with Kelly and the decision was made...As Kelly said in his press conference today, "The challenges are great here. If your head and heart is not in it, you just can't be successful. Aaron and I talked about it and mutually agreed that the best decision for him is to leave the football team."
Lynch released this statement today..."This was one of the toughest decisions I have had to make, but I want to go back home to Florida. I'm grateful to Coach Kelly for understanding and allowing me to return home."
It's already been speculated that Lynch will end up at South Florida...
Kelly had also pointed out that Lynch hasn't been the only player he's seen who's heart or head aren't in it...A top 100 recruit, cornerback, Tee Shepard, who is from Fresno, California only lasted six weeks at Notre Dame before he realized it wasn't the right fit for him...
Kelly had also sent former 5 star recruit, Ishaq Williams home to do some soul searching, and find out if he really wanted to "excel at Notre Dame." Williams is back with the team...
Trying to end the topic during the press conference, Kelly said, "I've been in it 25 years, people are going to quit all the time. "It happens. It's part of the process. Why is it newsworthy? Because he (Lynch) is a really good player."
Losing Lynch's talent, and potential hurts, but DE is a position the Irish have a bit of depth with...Look for sophomore Stephon Tuitt to step right into Lynch's spot...
Now for the questions...Why is Kelly having trouble with top recruits lacking heart and head? Is it the way Kelly runs things? Is it the academics standards that are pushed more then they are in many major programs? Is it the fact that South Bend is South Bend? (Not the sexiest place around) Is it really these guys being soft and homesick? Possibly a combination of some or all?
Whatever it is, Kelly better figure it out, before it costs him his job...
Later, The Beeze.