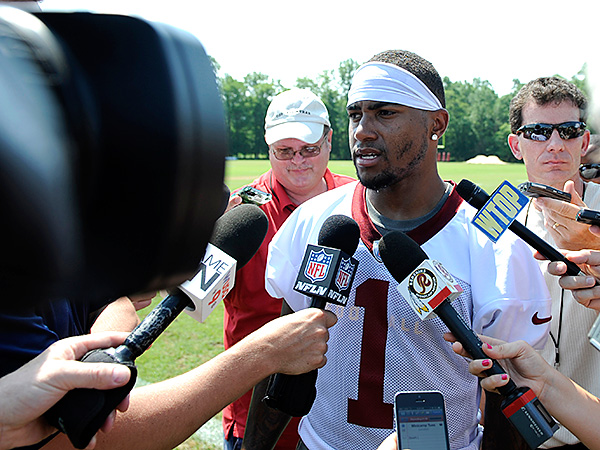 Washington Redskins WR DeSean Jackson has already started talking shit, calling out Darrrelle Revis, Richard Sherman, and any other cornerback...
"I don't think no one can guard me. It's how I feel about myself. I don't feel no one can stop me. You can get Darrelle Revis, Richard Sherman, whoever you want to get."
WOW! I'm not wowing the bold statement...I'm saying wow, about that
eloquent
fucking grammar..."I don't think no one can guard me."
...Yeah, give it to me...
"I don't feel no one can stop me."
...There it is...Hit that double negative twice in three
sentences....That is some mother fucking poetry right there!
Yes, Jackson is a play-maker...He is a talented receiver...Also, he's clearly an idiot! Jackson feels no one can stop him...Well, he better have a long talk with his teammates...the 'Skins offense itself could stop Jackson...They haven't had the best track-record...Last year they targeted Jackson 94 times for just 56 receptions, and 6 TD's...A bit of a drop-off from the year before in Philly where he was targeted 126 for 82 receptions, and 9 TD's...Plus he's only had two seasons where he has played all 16 games...Maybe look in the mirror DeSean...
Love the tough talk from a guy who's numbers have declined...
Something tells me Revis can't wait for his week six matchup against this half-illiterate gas-bag!