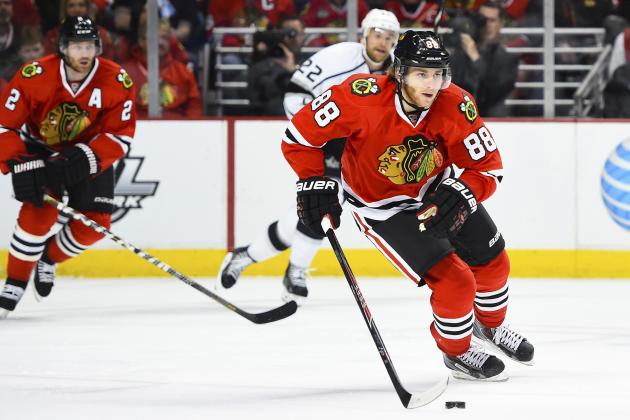 ...And no, I'm not talking about a great pass from Duncan Keith or Jonathan Toews...
Since this story has broken, Patrick Kane has had to live with the scar of being called a rapist...Every day something else comes out in the media, and next to Kane's name, it says Rape...Or Rape allegations...The Internet loves to harp on this country's "Rape Culture"...And yes, women are often treated horrible when they come forward with an accusation of rape...But the Huffington Post and the rest of the Internet never wants to talk about the other side of "Rape Culture"...
The side where a woman accuses a man of a rape, that wasn't really a rape...Just as a rape victim can't wash away what happened...Neither can the accused...Even if the accused is innocent...Or like Kane, a high-profile person, who has not been charged with a crime...But his name still sits next to the words rape allegations, or rapist...
Four days ago I posted
THIS
...A number of things didn't make the accuser look good...The site Sports Mockery hasn't stopped digging into this...While most of the Chicago media, and well, most of the media already have Kane guilty, and looking into how the Blackhawks can get out of Kane's new $84 million deal, Sports Mockery hasn't caved in yet...And I don't blame them...
As mentioned in the previous post, the alleged victim deleted her social media account...Or at least went Black Ops with them...(made private, changed her profile name)...There is something people really need to learn...just because you change your account, or delete it, or delete tweets...They already went out there...It's all floating around in the ether of the Internet...
Well, Ms. former University of Buffalo Cheerleader's tweets have been caught...Tweets she tweeted in between 11:00 PM and 3:00 AM, the night she was allegedly raped...Her last tweets before her social media accounts went bye, bye...
What's the next line from that song Cheerleader?
"I need that money like the ring I never won, I won."
So there's her final words on twitter...Smells fishy to me...Lake Erie fishy!
Then it's shutdown and she goes to the police...I wonder how many pics there are on her old Instagram account, rubbing up on Kane, having drinks with him...Doing "molly" with her friends before they got to Skybar...
I'm not saying Kane didn't bite her shoulders...I'm not saying Kane didn't get rough...I'm not saying didn't fuck her...I'm saying there was sex...And now she's trying to fuck him...$84 million contract...
Oh, and she has gotten her father's attorney
on board
...The attorney he used in 2012 when suing parties over
"fraud related to a private finance transaction."...The transaction amounts vary between $300,000 and over $1,000,000...
Does any of that really matter in this case...Maybe...Maybe not...But something stinks about this unknown woman....She has had her name protected, while Kane's has been smeared with an
accusation
that he will never be able to shake...Even though he has not been charged...
We'll see what happens next...