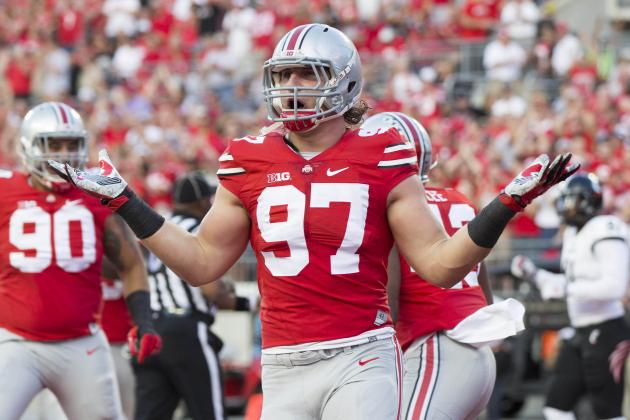 Today, Ohio State suspended defensive end Joey Bosa, receiver Corey Smith and H-backs Jalin Marshall and Dontre Wilson for violation of team rules...They'll miss the season opener on September 7th against Virginia Tech...
All-American DE, Joey Bosa is the biggest hit...He notched 21 sacks the last two seasons...The Buckeyes will look to a couple of red-shirt Freshmen, Sam Hubbard and Darius Slade to rotate in opposite red-shirt Sophomore Tyquan Lewis...
It came out last week, that QB Braxton Miller was converting to WR/H-back...This looks like an even better move now, as Miller can fill the void of Marshall a,d Wilson who averaged 5.8 and 5.6 yards per carry...
Much is expected from Smith this year, but now Noah Brown, who had a great spring, will have a shot to step up and make an impact.
I'm not sure what rules these guys violated, but as someone who is not an Ohio State fan, and always look for what this program does wrong, I'm happy to see them make this stand, especially for the first game against a Virginia Tech team that always seem to be a pain in people's asses.