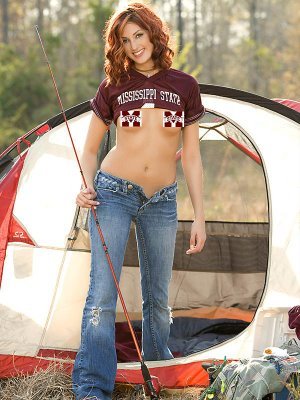 Yep...The Bulldogs keep rolling along...They've been creeping up the charts...Well, lets just get right to it...My top 10 teams this week in College Football...
1. Miss State...They jump over Florida State...Why? Because their schedule to this point blows FSU out of the water...They turned the ball over 4 times, and still smoked Auburn...
2. Florida State...They've stayed undefeated...Done what they have to so far...Big game this Saturday with the undefeated Fighting Irish...
3. Ole Miss...The state of Mississippi must be out of their fucking minds...Both their teams just rolling through the SEC...
4. Baylor...Tough team...Down big, and came back big to beat TCU...Could everyone stop talking about TCU's tough defense now...They just gave up 61 points to the Bears!
5. Notre Dame...I would have put my guys in at 4, but Baylor has been more impressive, and the Irish, who's defense has looked so good, just gave up 43 to North Carolina...
Now it just becomes a log jam of 1 loss teams...Oregon, Michigan State, and Auburn would land in the 6, 7, and 8 spots, in no particular order...Then I'm going with Kansas State at 9, and Georgia at 10....
-So this week, the NHL season got into full gear...and one of the oddest things to happen was NHL Analyst, Mike Milbury, a former Coach/GM, and player, saying that "it's time to grow up," and get rid of fighting in hockey...Just to be clear...He did admit to enjoying a fight or two in his day...Yeah, if it wasn't for fighting his career would have ended sooner...
Ok...Now, just so you know, the guy that said "it's time to grow up," is the guy at the top of the screen in this video, in the stands, hitting a fan with his shoe...Fuck you Mike Milbury!
I could except some one else saying lets get rid of fighting...If Gretzky said it, no one would be shocked...But you...You're dick-bag!
Fighting in Hockey is fine...Captain America himself, said so...Yep, The guy who single handedly took Russia out of the Olympics, T.J. Oshie dropped the gloves this week...Oshie can fight...But he's not a fighter...And the guy he fought, Mats Zuccarello isn't a fighter either...just a little runt, who can get under your skin, and won't back down...
And how about this scrap...gotta be the top fight of the opening week...
So lets, recap...Because I just had 3 Moscow Mules after a long week...Milbury= Dick-bag...Hockey= Great! Fighting in Hockey= Good.
Miss State= Shocking the SEC and the world...
Notre Dame= Needs to play a fuck-ton better to beat those cock suckers at FSU this week...
And don't be a dumb server!
Have a week...
The Beeze.