So Hockey already has it's first big trade of the season...The Buffalo Sabres traded star goal scorer Thomas Vanek to the New York Islanders for Matt Moulson, a 2014 1st round pick and a 2015 2nd round pick...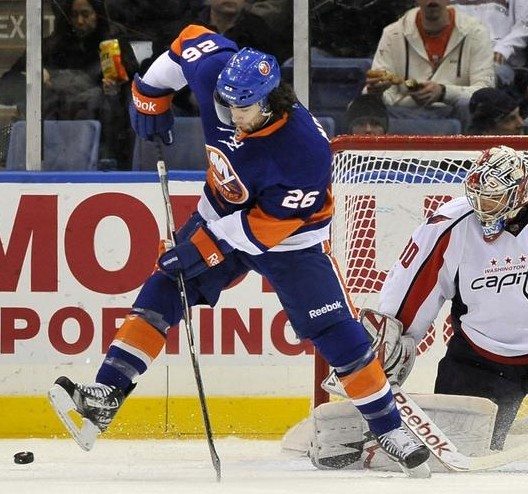 Sure, Vanek has the label of sniper...Yes, he has had two 40 goal seasons and two 30 goal seasons...But guess what, Moulson has three 30 goal seasons under his belt...Moulson, just like Vanek is 29 years old, and both are slated to be free agents at the end of the season...
So the Islanders negotiations with Moulson weren't going well...So they trade him instead of losing any value they could get for him...But they traded him for a guy also on an expiring contract....And tonight Vanek's agent made it clear the deal was done without a contract extension in place....Vanek's agent Stephen Bartlett also hinted at the strong possibility of his client waiting until Summer for a new deal....
"We'll take it day by day and focus on the short term for now and see where we are at season's end."
That my friends is agent's speak for, 'We'll see if playing with John Tavares can put a big post in Vanek's stats, so then we can land a monster contract from the highest bidder!'
So the Islanders get that...Buffalo get s Moulson, a 30 goal scorer...A 1st round pick and a 2nd round pick...Similar player...Free agent at the end of the year, and two high picks...Darcy Regier and the Sabres win...Shit, if Regier can't lock down Moulson to a contract by the trade deadline, he'll trade him then for a couple of prospects...If there is one thing Regier knows how to do, it's rebuild and snatch good prospects....
If the Islanders were smart, they would have gone after a more important need, and gone after Buffalo goalie, Ryan Miller...Yes, the Sabres will move him this year...They have two strong, young goalies behind him...
What do you thing...Did Islanders GM Garth Snow shit the bed again? I do!
The Beeze.