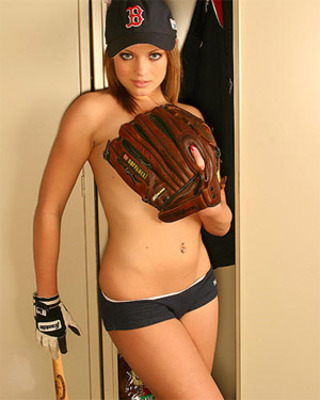 Well, the World Series is set, and the Boston Red Sox are heading back there to take on the St. Louis Cardinals...And yeah, this household will be rooting for Mrs. Beeze's hometown Sox...Plus, I hate the Cardinals anyways!
I plan on keeping this post short...The Beeze is feeling beat up and tired...Friday, while at work, I was getting some stuff from a walk-in freezer, when a not well stacked, box of frozen duck breasts fell on my head...I was okay...My head hurt...And my neck and shoulder slowly started aching, but I finished the day...But the wife was up my ass to go to the ER and get checked out...So I did...A couple of Doctors checked me out...Their main concern was a concussion...My main concern was my neck...In the end, I'm okay, and was told, "You'll feel worse tomorrow, take lots of Advil."
Yep, some cock-sucker went to college for 8 years to come up with that...It's all guess work in a white coat!
Friday evening I had promised to take my daughter and her friend to our local high school's football game...They were on the road this week, so we took a quick drive out to that...Our team was down 21-0 and had two players on their way to the hospital by the end of the 1st quarter...They got smoked...The final was 49-21, and the parents and fans on our side were going wild when out team started playing well on D and scoring in the 4th quarter...I just wanted to stand up and scream...'Relax people, it's our first string against their second and third stringers!' I get being proud when your kids don't give up, but grab hold of some perspective...Your senior suddenly looks good, because the kid across from him is a sophomore...
We got home later then I wanted to, after stopping for a bite to eat...The place had a band that was doing all 80's covers, so I got a kick out of it, while the girls, not so much...I crashed in my chair watching Louisville choke away their season to UCF...
Saturday I was suppose to finish redoing our garage roof with my buddy...Luckily it rained all damn day...The Garage work waited until Sunday...That all mixed with the constant run around with the kids has me wiped out...
Saturday night Notre Dame beat USC 14-10...A win is a win...And a win over USC is always good...The Irish defense carried the team, especially after QB Tommy Rees was knocked out of the game...The Irish coaches have said backup, Andrew Hendrix has the whole playbook, but it didn't look like that Saturday, as they barely let him throw...The few passes he threw were bad...The Irish kept it on the ground and tried to kill clock...Luckily, between the defense, and USC just not knowing who they are, the Irish pulled out the win...
There were plenty of upsets this in College Football...Checkout what
UNCLE_B.O.B
had to say...Also give
TAGE
a read, as he covered the Pats, Red Sox, College Football, the Mess at Grambling State, what a disgrace that is...and more...
I also want to share this...Very few people paid attention to the Miami (Ohio) and Akron game...Hell, I don't know who won...Let me look it up...Akron won 24-17...But you gotta see this fullback, just destroy this linebacker...
#43 from Miami is fucking wrecked...
The last thing I want to get into is Maxim Lapierre's dirty hit on Dan Boyle last week...
Lapierre only got 5 games for this...To me, that's bullshit...This guy is a repeat offender...Always talking shit...Always diving...And plenty of cheap shots...
And just ask Bruins fans about what a little asshole Lapierre is...The NHL has been talking tough about heads sots and hits from behind, and here is a guy who has a record, and he only gets 5 games...Fucking bullshit...
Not to mention, that Boyle is the second key guy on my fantasy team to be knocked out with a head injury...(Rick Nash is the other...Plus James Neal got hurt 4 minutes into the season...FML!)
That's it for now...Have a week...
The Beeze.