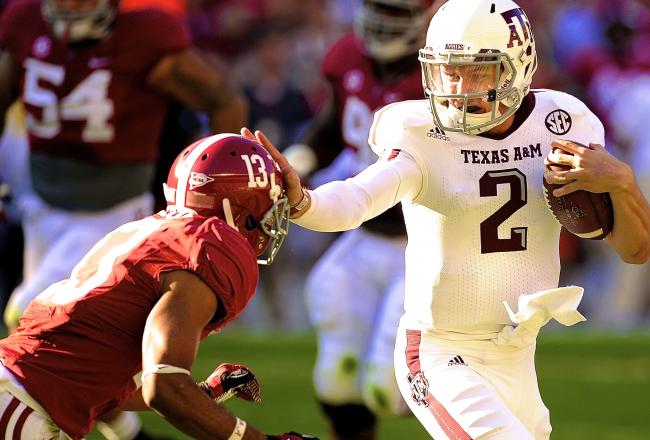 This week we start out with the great and powerful SEC, and their premiere team (#1) Alabama'a match up with SEC newcomer (#15) Texas A&M, who finished 6th in the Big-12 last year...Oh, what ever could the lowly Aggies do against the almighty Crimson Tide?
Let's switch that to Crimson Stain....Because 'Bama shit the bed Saturday, falling behind A&M 20-0 in the first quarter...Alabama struggled to fight their way back, and got themselves in position to take the lead...29-24 A&M is ahead..."Bama is driving...And then they shit the bed some more, as A. J. McCarron threw an INT at the goal line with a minute and a half left...
But wait, there's more...The Aggies ran the ball three times...'Bama holds, and uses time outs to save as much clock as possible...4th and short...A&M set to punt...'Bama jumps the neutral zone...FIRST DOWN AGGIES! Game over! Eat a dick overrated Alabama...And eat a dick overrated SEC...As every team you have tried to hang your hat on this season, has fallen on their face!
Aggies young, star QB, Johnny Manziel had a big day, passing for 253 yards, and 2 TD's, while rushing for 92 yards...This kid has a bright future ahead of him folks!
-Next we take a look at another SEC darling...(#7) Florida who was at home against Louisiana-Lafayette...This game was way too close if you're a Gator fan...How close? Florida returned a blocked punt for a TD wit two seconds left, to take the lead, and win...Yes, Florida has had a better team than people expected, but when you struggle against ULL, it proves you weren't ready for prime time...
-Speaking of not ready for prime time...(#9) Louisville did what all Big East teams do...Remind us that the Big East is garbage...The Cardinals went down to Syracuse...Syracuse...Thanks to Louisville, these Orange dopes are now a .500 team...Louisville gave up 278 rushing yards to the 'Cuse, as the Orange won 45-26....Louisville QB Teddy Bridgewater passed for 424 yards and 3 TD's, and it just wasn't going to be enough on senior day in Syracuse...
-(#2) Kansas State went to Fort Worth to take on TCU, looking to jump up to the #1 spot, with Alabama falling to Texas A&M...Collin Klein and company didn't put up huge numbers this, as they battled and grinded out a tough 23-10 win against the Horn Frogs...The talking heads already have (#3) Oregon leap-frogging to number 1, but I've got K-State at the top spot...Especially since, as I write this, Cal is only down 17-10 against the Ducks, and it's almost halftime...Normally Oregon has hung 50 on teams by this point...
-The (#11) Oregon State Beavers were having a heck of a season until they took their second loss in three weeks...This time at the hands of the (#14) Stanford Cardinal, 27-23...With Cal and Oregon left, Oregon State's season is just going to get tougher...While Stanford heads to Oregon and then to UCLA to finish out their year...I guess their road won't be too easy either...
-Next up, the (#4) Notre Dame Fighting Irish went to Chestnut Hill to face Boston College...
The Irish pounded out 3 long scoring drives, one in each of the first three quarters...They also had another good one going in the 2nd, but it was ended by a George Atkinson fumble...the first of two fumbles forced by BC...Both were good defensive plays, but the Irish defense made sure to keep the Eagles out of the end zone, as the Irish stayed undefeated with a 21-6 victory...
It seems each week, we see a little bit more growth, and confidence in red-shirt freshman QB, Everett Golson...Saturday he passed for 200 yards and 2 TD's, and rushed for 39 yards and another TD...Theo Riddick showed off his versatility rushing for 104 yards and catching 4 passes for 56yards...TE Tyler Eifert continued to improve his draft stock, with 6 catches for 67 yards...But more then that, the most improvement in his game, has been in his blocking...NFL teams gotta love a 6-6, 250 pound TE with great hands, good speed, great jumping ability, and excellent blocking skills...
Next for the Irish, they'll be at home against Wake Forest...Then they head to (#19) USC to finish out the season...The Trojans by the way, worked over Arizona State, 38-17...
-This week's Big Ten highlights...That just sounds silly...The Big Ten is such crap this year...Nothing like your conference's best team being under sanctions, so everything they do means nothing...
(#16) Nebraska had to come from behind to beat Pedo-Cover-Up University, 32-23...Then Michigan beat (#24) Northwestern 38-31 in OT...
-As for (#3) Oregon at Cal...While the Bears have been playing tough, the Ducks have started to do their thing, and have gone up 45-17at the start the 4th quarter...So I'm assuming they will hold on to win...I'm off to bed...We'll see tomorrow...
Feel free to add your two cents...
The Beeze.