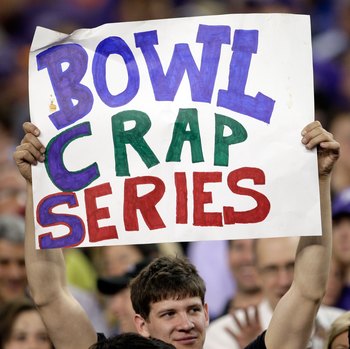 As my good friend B-Dub pointed out Monday, back in 2003 Nick Saban had this to say,
"Anyone that doesn't win their conference has no business playing in the national championship game."
So, why hasn't Saban refused to have his team play in the BCS Championship game? His Alabama team didn't win their conference...Hell, they didn't even make it into the conference championship game? Why, because they lost to LSU!
Supporters of the BCS have always defended the system saying that it makes every regular season game count...Well clearly it doesn't, because LSU already beat 'Bama, yet some tool, Jeff Sagarin and his computer program have said 'NOT GOOD ENOUGH! PLAY AGAIN!' So if 'Bama wins, will LSU then get a rematch? No...This tool and his computer program have had Alabama playing in this game all year...
The theory of the BCS is to have the two best teams in the country play for the title...Play for the title, without a playoff...It has lead people to think that teams have to go undefeated, which is a tough thing to do...And it's pretty rare that you'll get two teams, and only two teams that will be undefeated at the end of the year...There have been many years where an undefeated is left outside looking in, because of the computer systems...We've even seen an undefeated team not in the game, while one loss teams play...There are so many flaws it's unreal...
No playoff is retarded...College football, while not "Pros" it is a major sport...Look at the championship winning teams from the past year in major sports...In a BCS type system, with no playoff, the Dallas Mavericks wouldn't have played for the NBA Championship...The Green Bay Packers wouldn't have played in the "Super Bowl"...The Boston Bruins wouldn't have played for the Stanley Cup final...The St. Louis Cardinals wouldn't have played in the World Series...
In all those sports, the regular season mattered...All those teams had to claw their way through it, and fight to get into the playoffs...Then they had to grind through playoffs to be the last team standing...But with college football, we have the BCS...The Bowl Championship Series...A bunch of bowl games that mean nothing, except for the money they generate, and one that means everything...But the games that are played, meant to decided who plays for it all, mean nothing...A Tool, and his computer program decide...
Supposedly strength of schedule is figured in...Every team has a weak opponent or two, and some teams that are thought to be better, but end up having a down year...Well, Alabama played 3 weak SEC teams, along with North Texas, Kent State, and D-2 Georgia Southern...That's 6 weak ass teams...Half their schedule...Looking at Oklahoma State's schedule, there are 4-5 weak games on there...Their one loss just like 'Bama's, a close game, an OT game, a conference game...But guess what...They won their conference, so once again let's look at what Nick Saban said in 2003...
"Anyone that doesn't win their conference has no business playing in the national championship game."
Later, The Beeze.