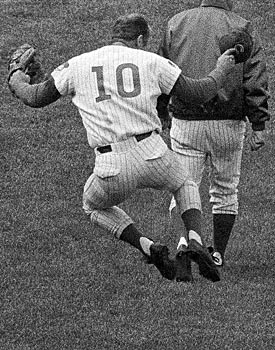 A year ago, on the day he died, I wrote
THIS
about Ron Santo and the Baseball Hall of Fame...
Today it was announced that the veterans committee have elected to put Santo in the Hall...'Better late then never right!?!' NO! Fucking wrong!
Everyone who has voted against Santo should be stripped of their voting privileges...Clearly, they have no clue about what they are doing...That post I have linked above compares his numbers to the great Brooks Robinson...Robinson, who many say was one of the greatest 3rd basemen of all time...And I would agree, but Santo's stats are right in line with his American League counterpart...
Yet it took Santo dying, before these ass-hats realized he belonged in the Hall of Fame...Now he won't get to enjoy it...His family won't get to enjoy it, because he won't be there...I honestly hope his family tells the Hall to go fuck themselves...
I often talked about wanting to go there...Then last year when Santo died, I told myself I'm not going...Never...I still feel that way...As a matter of fact, I'd love to see that idiotic place burn to the ground, along with the homes of those who kept Santo out of the Hall all these years...You're all fucking assholes...
I hope Santo is resting in peace...And I hope those who disrespected him don't.
Later, The Beeze.