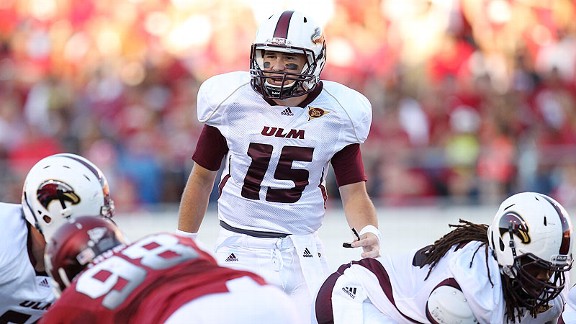 With all the games in College Football, who thought we'd be starting off with UL Monroe shocking #8 Arkansas? Yes, the Warhawks took down the Razorbacks in overtime, winning 34- 31...The star of the game was UL Monroe QB, Kolton Browning, who passed for 412 yards, and 3 TD's...He also racked up 76 yards and another TD on the ground...But the Warhawks defense needs some love too, as they knocked Arkansas' over-hyped QB, Tyler Wilson out of the game at halftime...Wilson was taken out after suffering a head injury, brought on by the numerous hits he was taking...Arkansas is going to be in for a long season going against SEC defenses, if they can't figure out how to block...
I'd like to thank the Razorbacks for showing us how useless the pre-season/early season rankings are...These guys were suppose to be the 8th best team in the land, and they just got taken to the wood shed by UL Monroe...
Another team not living up to their pre-season billing, was #13 Wisconsin, who went to Oregon State, and didn't get a very friendly welcome, as the Beavers defense smothered the Badgers...Wisconsin expected to use their ground game and start back Montee Ball, were shut down, Only gaining 72 yards on the ground...61 from Ball, who's 21 games with a TD streak was snapped...The Beavers were also blitzing QB Danny O'Brien non-stop...No one was expecting much from the Beavers this year...Should we be paying more attention?
My sleeper team, Kansas State destroyed Miami 52-13...And it wasn't even that close...One of my Heisman favorites, K-State QB, Collin Klein rushed for 3 TD's and 71 yards, while also passing for 210 yards and another TD...
Texas A&M and Missouri got a not-so friendly welcome to the SEC this week...A&M fell to Florida 20-17...The Aggies went to the half with the lead but got out played in the second half...&8 yards in penalties will never help your cause either...
Georgia paid Missouri a visit, and for 3 quarters it was a really good game...But Georgia took control in the fourth, and blew it open, winning 41-20...
How about ESPN's favorite program...Penn State was trying to bounce back from their loss to Ohio University last week...And wow, they really miss their kicker who transferred to Texas right now...The Nittany Lions place kicker, Sam Ficken missed 4 field goals Saturday at Virginia, in what must have been a real mother fucker for PSU fans to watch, losing 17-16...Guess what...As much as ESPN is rooting for you, the rest of us aren't!
And since I brought up the Ohio Bobcats...They won again Saturday, beating New Mexico State 51-24...Ohio QB, Tyler Tettleton passed for 257 yards and 2 TD's...Running back Beau Blankenship picked up where he left off, putting up 168 yards, and 2 TD's on the ground...
The Nebraska/UCLA game ended up being better than I expected...Nebraska put up 439 yards of totall offense...You'd think that would be good against UCLA, which hasn't been much to write home about for more than a few years now...Well then the Bruins go ahead and put up 653 total yards of offense...WTF!?! And somehow UCLA only won 36-30....Well they did have 126 yards in penalties...We've all headed into the season only really looking at USC and Oregon out of the Pac-12...With what the Beavers and Bruins did Saturday, maybe we need to look deepr...
Then of course there the Fighting Irish, taking on Purdue...
The Irish pulled out the20-17 win with a late field goal, after a drive lead by Tommy Rees...Tommy Rees...No! Coach Kelly said Everett Golson's hand was dinged up, and was having trouble gripping the ball...I hope that's the truth, and it wasn't a lack of confidence, for a late game drive...I want to see Golson get that experience...The kid is a real talent...Plus I hate Rees, who was a turnover machine the last couple seasons...Plus I would have thrown him off the team after he took a swing at a cop...Kelly also said after the game that, "Golson is still our starting Quarterback."
The Irish struggled to get their running game going all day...Notre Dame had no trouble running the ball against Navy last week...But there's a difference when you face a front seven that has some real size...The O-line wasn't blowing Purdue off the line the way you'd like to see...Better get to work on that, since the schedule gets tougher next week...
Here's the ND highlights...
That's it for this week...See ya for Monday moaning!
Later, the Beeze.