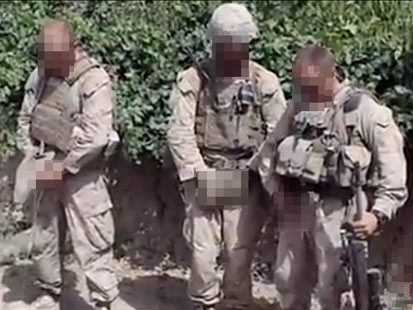 First, let me start by saying this...The blurred boxes over these guys cocks, is being very generous...
Second, am I the only person not shocked by this? News broke Wednesday that there was pictures and video of U.S. Marines pissing on some insurgents they took out...Seriously, I just assumed that on occasion, military personnel, who have seen some serious combat may have to let off some steam...And possibly some piss on the bastards they've been battling...And I doubt that U.S. troops are the first and only to do this...I'm not saying all have done it, I'm just saying some probably have...
I've never served in the military...I've never been in combat, and had mother fuckers shooting at me...The most intense battle I ever had was chaperoning Little Beeze's kindergarten class to the Zoo...Now I didn't piss on anyone, but I was frazzled...So I would guess that if I made through a fire-fight in Afghanistan, I might piss on some one...Shit, I've farted in people's faces just for shits and giggles! (Little Beeze included)
Here's the video...It's been removed from YouTube a few times already, so expect it to get bounced again...
Yeah, maybe it was wrong, but what might be the bigger problem, is the fact that these Marines were willing to pull out those tiny dicks in front of a camera!
Later, The Beeze.