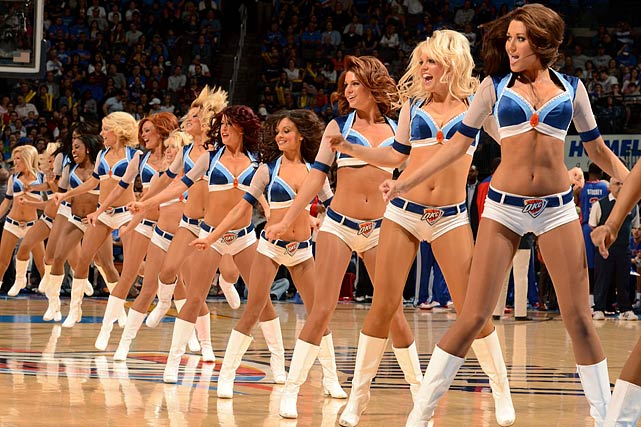 Well, the Oklahoma City Thunder fan-base has grown greatly...Now that they will be facing the Miami Heat in the NBA Finals, most of Cleveland, and I think most fans watching, will be rooting for the Thunder...Christ, some joker on
TWITTER
has already merged the OKC logo with the Cavaliers logo...I'm not worried...As I said
HERE
, I think the Thunder Will take care of business...
-But there is bigger things to talk about in my opinion...It's been awhile since I've posted anything having to do with my hatred of Jerry Sandusky, and the dirty dealings at Penn State...Well, now that I have seen the jurors for the Sandusky trial that starts Monday, I'm left scratching my head...
The jurors include an engineering administrative assistant at Penn State, a dance teacher in the Continuing Education Program and a professor who has been on the faculty for 24 years...Also a Penn State senior, a retired Soil Sciences professor who had 37 years at the university...A man with Bachelor's and Master's degrees from Penn State, and a woman who has been a season ticket holder since the '70s...
Why am I scratching my head? Because with at least half of the jury having personal ties to Penn State University, I wondering what the hell is going to happen...Are these assholes going to help him get off, which would go along with everything I have thought since the beginning...That everyone involved with that place is so blinded by their loyalty for Penn State Football, that they will do anything to try and cover up their dirty deeds...Yes, there is still the story floating around out there that the President, Paterno, and the board knew all about this, and were involved in the cover-up all these years...
But could it be that their loyalty to Penn State could automatically lead them to wanting "the Book" thrown at Sandusky for tarnishing the school and Joe Paterno's reputation...Maybe, but which ever way things go, people will have questions and doubts about it...Hell, we could even get a mis-trial...Fuck, I just don't trust anything that goes on there...
-And speaking of not trusting things...Boxing has reared it's ugly head again...Saturday night, Manny Pacquiao lost to Timothy Bradley...Now I haven't bothered paying for a fight in years, because Boxing has been garbage...But I still try to keep tabs on the news...And the easiest way to track something as it happens, without watching it, is Twitter...If you follow the right people, you'll get nearly punch to punch updates...So Saturday night I kept an eye on Twitter...From the tweets I was seeing, Pacquiao was leading throughout the fight...Shit, Pacquiao landed 82 more punches then Bradley...
But then the fight went to the judges scorecards, and the Twitter-verse exploded...The judges, and the world of boxing were getting thrashed for this decision...We have heard about fights being fixed, and fighters taking a dive, but this seemed like the fix was in, and no one told the two guys in the ring...
I remember when Boxing was still a big deal...The night of the Hagler/Leonard fight, every kid on our street was in my parents living room, watching that fight...Now most kids don't know shit about boxing...They either watch MMA, or they watch wrestling, which while I think it's crap, at least they're up front about it being bullshit, unlike Boxing...No one respects Boxing anymore, and that's because Boxing doesn't respect itself...
- Off the topic of sports...I often bash my city, Cleveland...I especially bash the horribly run Cleveland Browns...Then I was watching the Nightly News...I try to do it as often as the kids let me...That or get my news later in the evening when everyone is asleep...But the thing I noticed recently is the weather...Blazing heat and wild fires out West...The South East got it's ass flooded with buckets of rain...Earlier in the spring tornadoes hammered big chunks of the country...The Gulf and East Coast get their Hurricanes...Any day now the great quake is going to snap California off...
And here in the Cleve...We've had great weather...Mild Winter (I only shoveled twice)...Great Spring, and Summer came early...I don't actually like Summer, I'm a Fall guy, but still, no shitty, ass beating weather here...So for all the crap I dump on my town, I have to say, I may be living in the best location, weather wise,(and natural disaster wise) in the country...
That's it for now...Have a week...Oh, and go Thunder!
Later, the Beeze.