Well here we are again...The beginning of the week comes quick...The past week has been filled with a lot of tragedy...Tornadoes ripped across the country causing chaos, death and destruction...In North East Ohio people dealt with the aftermath of the Chardon High School shooting...Thursday good in people was on full display...I wrote about it
HERE
...And the Saturday, the people of Chardon formed a human wall to block the threat of assholes from the Westboro Baptist Church who planned on protesting...Those Westboro fuckers are complete ass-hats!
Then there was
THIS
news about the Browns Friday...What a joke!
In Sports there have been a couple stories out there...The New Orleans Saints possibly having a bounty system...I'm not sure why people would be shocked by this...It's Football...It's a violent game, and there are opponents that get under people's skin...And Football being a violent game, where you try to hurt opponents, makes it easy to hide the fact that you may be trying to actually hurt some one...
Spring Training is fired up, but I can't get excited for Baseball just yet...And the Indians have annoyed me already...This off season they didn't pick-up their option on the always injured, grossly overrated, strikes out too much, Grady Sizemore...Good I thought...He ain't worth $9 million...Then they signed him to a $5 million deal...Still not sure why since he was rehabbing a couple injuries...So what happens...He fucks up his back again...Has the same surgery Peyton Manning had on his neck, done on his lower back...Looks like he's done for the year...$5 million down the drain...
But there is one think that I really need to get out there...I fucking hate Basketball...I'm in my car, listening to Sports Talk Radio, and when local dolts aren't talking about what the Browns should do in the draft, they along with ESPN and FOX dolts are talking about Basketball...And Fuck Jeremy Lin! Seriously!
You fuckers in New York, and on the major networks need to wake up...There is only one sports team in New York worth talking...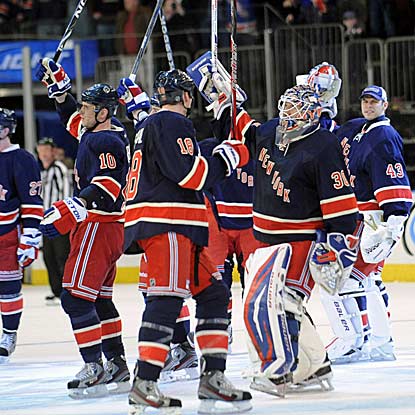 That's right fuck-stains...The New York Rangers...42-15-7 is a hell of record, and they sit on top of the NHL standings with 91 points...With the best goalie around, Henrik Ludqvist, and a core of talented, young defensemen...Offensive threats like Marian Gaborik, Brad Richards, and their captain Ryan Callahan, who does everything on the ice...The Rangers roster is full of grinders, and brings a few thumpers with them...
They are all lead by their coach John Totorella...A no bullshit kind of guy, who expects the best out of all his players...He expects his players to have each others backs...And everyone on his team blocks shots...It doesn't matter who you are...You block shots, or you don't play...
The Rangers have been the most consitent, hardest working team in hockey...And they've done it all quietly it seems...Even many of the NHL talking heads haven't given the Rangers the time, and respect they deserve...Well it's time to wake up...The Rangers are on the road to the Cup, and they're a real son of a bitch to play against...Right Bruins? How about you Flyers? Yeah Philly, the boys in Blue own your ass!
That's it for now...
Have a week...And watch Hockey...
Later, The Beeze.