Now that's how a Cubs fan should say happy Monday!
Yes, once you get past all that ass, you can see she's rocking a Cubs jersey...So why am I starting this week talking Cubs? I'm not...Just look at that ass! There was some excitement at Wrigley Field this past weekend...Pearl Jam played the old ballpark...A few friends of mine went...It would have been cool to be there, especially when Mr. Cub Ernie Banks walked out onstage!



If you were there and are a baseball fan, let alone a Cubs fan, that had to be pretty damn sweet...Hearing Ernie say lets play two was great....Sadly, it's rare that playing two happens these days....I often wish I could have lived to see so many of baseball's greats...I think of Baseball in the 40's-50's-60's, I'll even give ya the 70's, and in my head, that's really Baseball...That's what it's all about...Then I read
THIS_POST
from our guy Radatz....He nailed it...It wasn't just Baseball that was Special, the character of our country was special...
I wrote
THIS
Wednesday, and I think it shows my frustration with where our country seems to be, especially from a media standpoint...Don't get me started on our government, that hasn't done any governing for couple years now, because all those DC dolts do is yell and whine at each other and say no to whatever the other guy says....There have been a couple movies about our Nation's Capitol/power structure being attacked, which lead to multiple news stories, and blogs about "What's our fascination with blowing up DC?"
Do you really need to ask that question? People are sick of the knob gobblers screwing things up, and screwing us over...The best we've got in reality is elections, which more and more people feel are rigged...Plus the two years of media covering the election shit, which mean politicians aren't doing their jobs, because they are busy campaigning...So we turn to fantasy...Movies, where that whole damn corrupt town get torched...Not hard to figure out....
Speaking of politics, douchebags, shitty media, and sports....Did you see ESPN signed Nate Silver...Silver, a statistician, who was the top guy at Baseball Prospectus, before starting his Five Thirty Eight column at the New York Times, predicting election bullshit...By the way, he of every election result nation wide 2012, he only got 1 wrong...ESPN plans to make him their Uber-stat man, and he'll do election shit for ABC...He will also be a major contributor to Keith Olbermann's new ESPN talk show that will launch in late August....
Ahhh, another reason not to watch the so-called World Wide Leader!
-Okay, random sports shit that you never thought I would cover...The U.S. beat El Salvador 2-1 in Soccer...Now you know and I know, that I don't give a shit about Soccer...I didn't even know this game was happening...But when I saw the score on my phone, I smiled...The U.S. beat El Salvador in Soccer....My old Fish House friends know why this makes me smile! Our old boss was a Soccer nut from El Salavador, who loved to talk shit...Eat it Chalupa!
-Phil Mickelson won the British Open...I don't care about golf, but when they play the British Open I watch here and there, just because the courses and weather can be so tough...Sunday morning I only watched a bit before I had to start getting on with my day, so I missed what happened...Again, just heard about it via my iphone while Molly and I were kicking it at the park....
-Dolphins Center Mike Pouncey says he won't apologize for pictures he and his brother took with some douchebag, wearing "Free Hernandez" hats in support of their former teammate, Aaron Hernandez...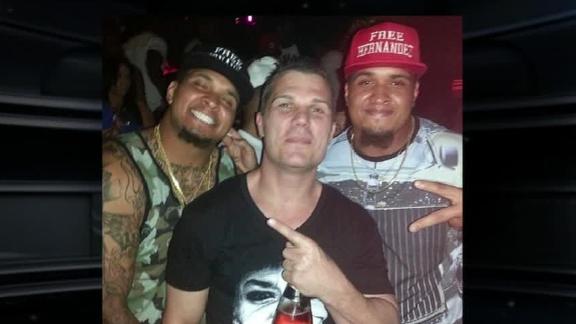 Okay, anyone who takes a picture with that douche should apologize...As for the hats...They're stupid...But if they want to support their boy, that's up to them...Dude plays for the Dolphins...It's not the first or last time he's gonna be on the losing side!
That's all I have for now...
Oh, except this week's musical selection...I found these guys last week...They're from Canada...Vancouver I believe...They're called Dead Ghosts...Their style...Old school, 60's Surf rock...It's like listening to a flashback...
Have a week!
The Beeze.